Living the Laguna Viva. Jane Da Mosto and Marcantonio Brandolini d'Adda on the Venetian ecosystem.
Venice is a timeless city in the middle of the lagoon, but it is also some kind of pulsating organism of uncertain existence, suffering the consequences of climate change more than other places. Immortal and carved in marble when viewed from the outside, it is actually fragile and on the verge of falling apart at the touch of those who live there and who every day patiently collect and arrange its fallen pieces.
Jane Da Mosto is a scientist and has lovingly dealt with Venice for many years with her NGO We are here Venice, with the motto "Venice for the Venetians, Venice for the World". Marcantonio Brandolini d'Adda, Creative director and president of  LagunaB creates Murano glass objects and studies the impact of this production on Venice and the lagoon and works daily to raise awareness in the local community. They share a common goal: to keep Venice alive.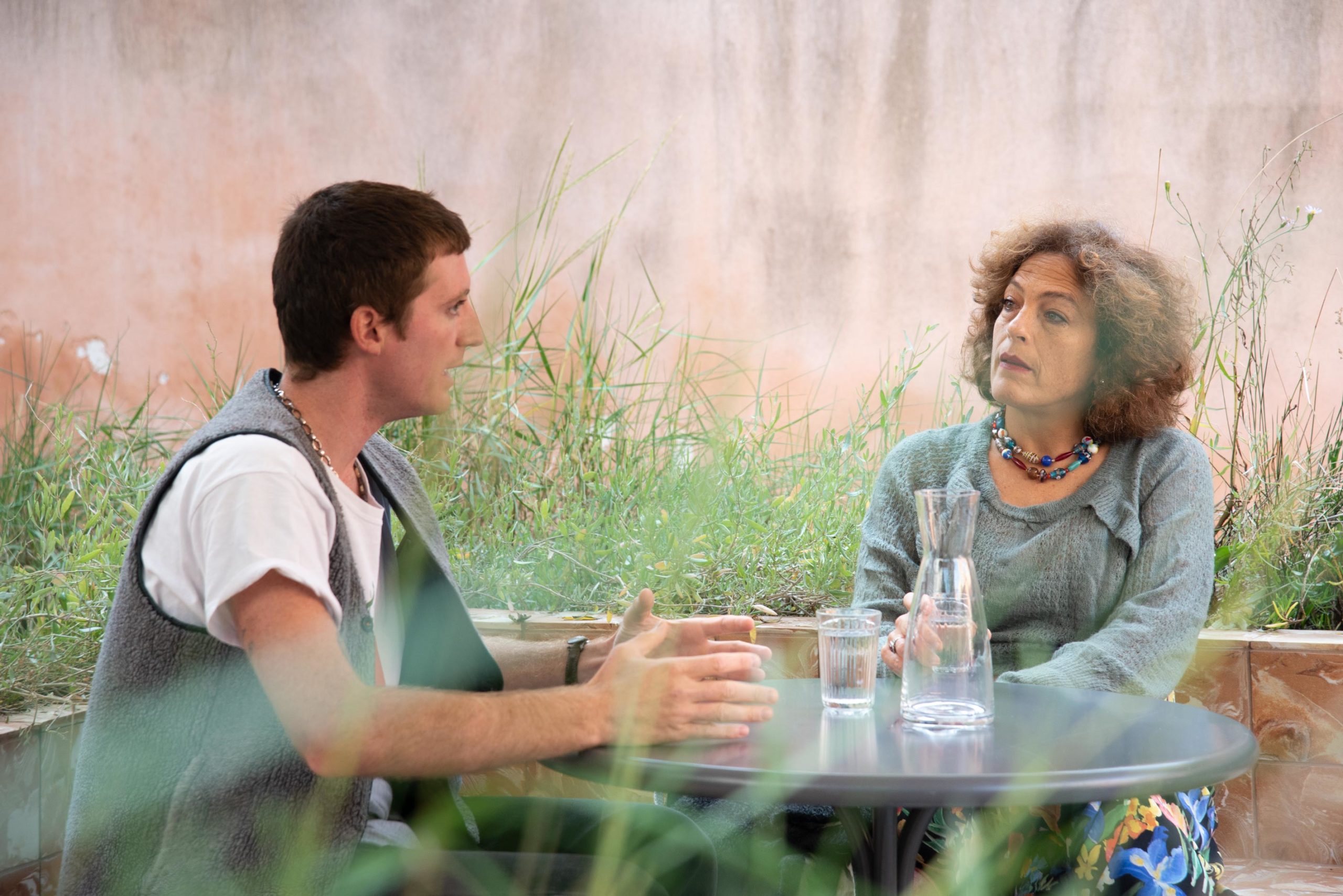 Above left: Marcantonio Brandolini d'Adda and Jane Da Mosto.
How we got here.
Jane Da Mosto: None of us had much of a choice to live in Venice. Were you born here?
Marcantonio Brandolini d'Adda: No, but it's like I was born here…
Jane Da Mosto: And I'm here because I married my husband Francesco who was living here.
Marcantonio Brandolini d'Adda: Where did you meet?
Jane Da Mosto: Here in Venice.
Marcantonio Brandolini d'Adda: And what were you doing here?
Jane Da Mosto: I came here because my mother had a place here, and was simply happy being in Venice as a visitor. These are experiences that I will always remember: I felt good in Venice even without knowing many people, I enjoyed Venice even then because of the lagoon, just being on the water, near the barene. I often had a bunch of friends with me, either from London or, where I worked in Milan. I was born in South Africa, then moved to London when I was 12, I went to Oxford then I worked, then I went to Imperial College and then I didn't want to work anymore because I had learned so much about economics and environmental science that I couldn't see a way to return to business. I was offered a research scholarship in Milan at the ENI Enrico Mattei Foundation. I worked there and I used to come to Venice on weekends if I had nothing else to do.
Marcantonio Brandolini d'Adda: How old were you?
Jane Da Mosto: 25-26.
Marcantonio Brandolini d'Adda: And did you come here even during the summer?
Jane Da Mosto: Yes I did.
Marcantonio Brandolini d'Adda: When I think of you I never think of someone coming from the outside … I always think of someone who has always been here.
Jane Da Mosto: Yes, but it was not an active choice to stay here even if each of us in a certain way would have the freedom to stay elsewhere. But in my opinion, it feels like a duty, so we gladly accept to stay here.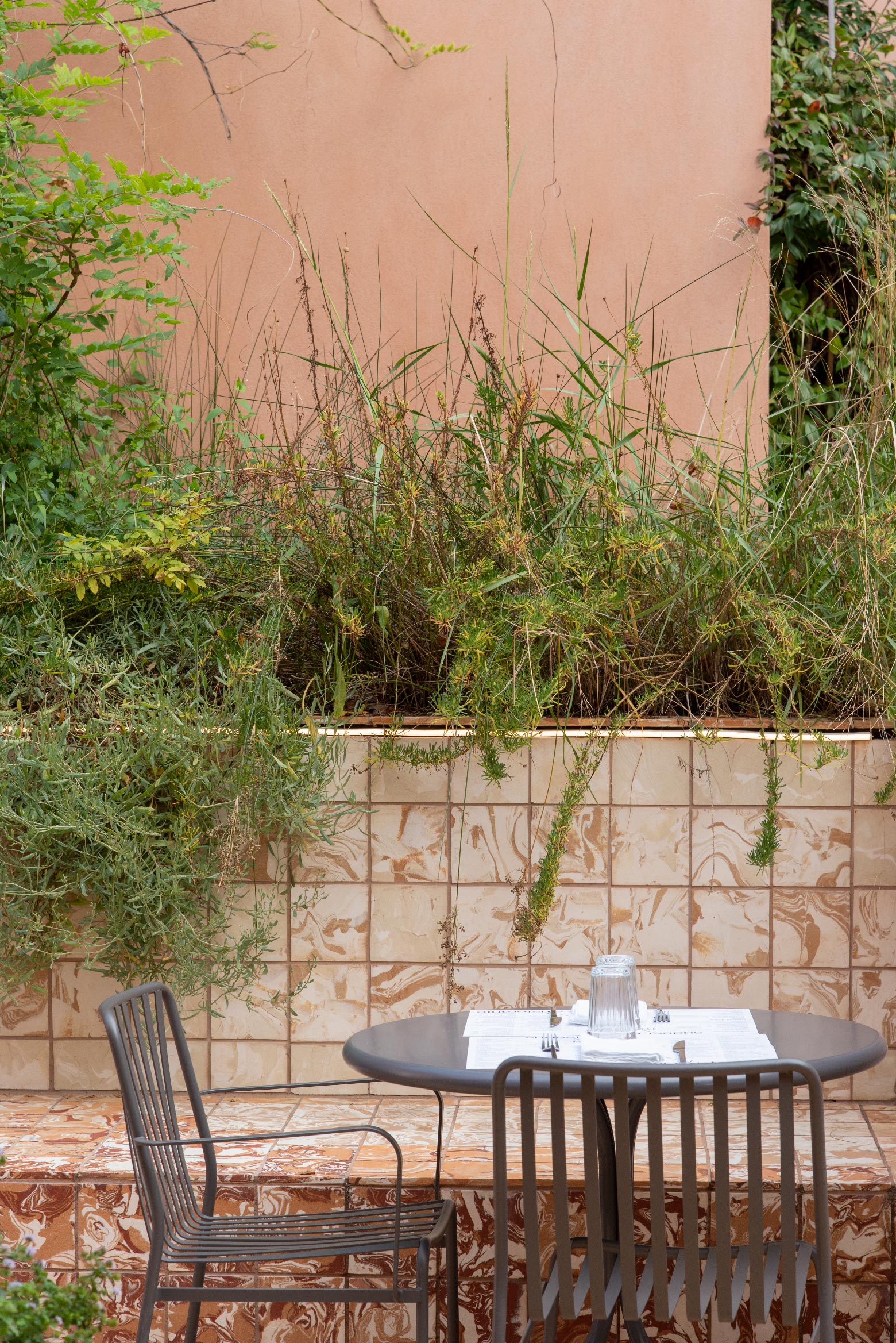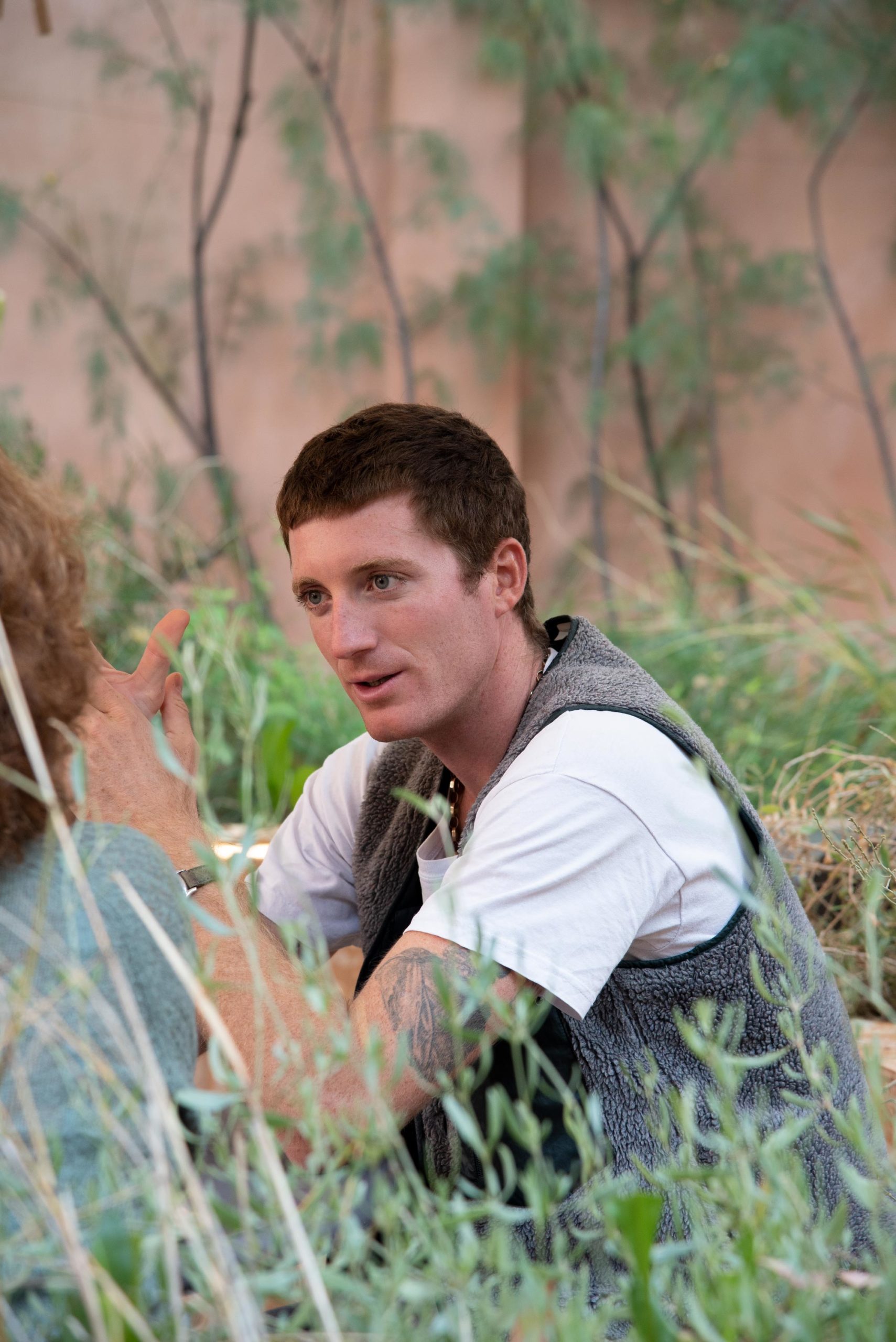 Above left: detail of the restaurant Sudest 1401 and the installation "Laguna Viva".
Above right: Marcantonio Brandolini d'Adda.
Marcantonio Brandolini d'Adda is the Creative Director and President of LagunaB. LagunaB is a glass company founded in 1994 by Marie Brandolini, who translated her artistic spirit and her love for Venice, where she relocated from Paris, into a collection of artisanal tableware designs. In particular, Marie experimented with colors, motifs, and techniques to offer a contemporary interpretation of Murano's signature "Goto de fornace" drinking glasses.
In 2016, Marie's son, Marcantonio, after being abroad, returned to his native Venice to take the helm of his mother's business.
While Marie's creations remain at the core of the brand, Marcantonio and his business partners, Alvise and Tommaso, are leading the evolution of LagunaB into a contemporary company. Thanks to a team of young Venetians, as well as a forward-thinking take on communication, LagunaB aims to highlight the potentials of Venice not only as a beautiful and historic city but also as a unique work environment and lifestyle destination for a global community.
Rooted in a set of values, which includes collaboration, awareness, and consciousness, LagunaB works on several fronts to develop projects with a significant impact on the promotion of creativity and craftsmanship, as well as of socially and environmentally responsible practices.
On the creative and educational side, LagunaB collaborates with Pilchuck Glass School, located in the Washington State (US) and headed by Tina Aufiero and Alice Diaz De Santillana, to develop the "Autonoma" exchange program aimed at bringing new energy and vitality to the Venetian glass community and, at the same time, giving a chance to the new international generations to discover the potentials of the Murano glass manufacturing district, as a breeding ground for research, innovation, and education.
In order to contribute to the planet and support the protection of Venice's ecosystem, LagunaB collaborates with no profit environmental advocacy group We are Here Venice on the "Offset" project, aimed at balancing part of the Co2 emissions produced through the manufacturing and shipment of glass by restoring part of the Venetian lagoon's salt marshes.
Marcantonio Brandolini d'Adda: I understand what you mean …
Jane Da Mosto: Roots! One can cut them, but you have to take care of them before making an extreme choice…
Marcantonio Brandolini d'Adda: A selfish choice, in the positive sense of the word?
Jane Da Mosto: I don't know, I'm happy to stay here even if it's difficult. But it would be difficult anywhere else. "Life – as Bobo Ivancich said – has ups and downs".
Marcantonio Brandolini d'Adda: For me, it is as if I was born here. Then I left when I was 15, I returned at 25 because I felt the roots calling, as you say. That sense of belonging is important in life. I have never felt like I belong in any other place. Maybe I felt like I belonged to someone, but never to someplace, but Venice.
Jane Da Mosto: It is the way of life in Venice that makes you feel you belong here.
Marcantonio Brandolini d'Adda: Yes, the lifestyle in Venice is crazy. Take for example yesterday, an amazing October day: I swam, I ate a lot. I walked around Lido for an hour, then I went to San Rocco, I had never been there in my life.
Jane Da Mosto: And what did you think?
Marcantonio Brandolini d'Adda: It's not my cup of tea, but it's very beautiful. We went to San Rocco, we took our boat and we went to the Lido, we rented a bike there, we took a swim in the sea, had lunch in Malamocco… it's too good! The problem is that you are detached from the reality of the world outside of Venice. When I go to Milan I feel uncomfortable… I tell myself, what the hell am I going to do here now?
Jane Da Mosto: I too feel out of place in Milan. I would not say it's [Venetian life is] too good, but it is too good because the beauty and pleasures of everyday life insulate us from the urgency to change the system that is necessary to survive. Together we are working on very constructive and positive projects but at We Are Here Venice we cannot ignore the underlying issues. We can do a lot with specific projects but not everything and we are also trying to operate in innovative ways.
Marcantonio Brandolini d'Adda: This is why our OFFSET project was born from the needs of We Are Here Venice and LagunaB; on LagunaB's side, the need is to try to balance the co2 emissions that are produced by the creation and shipment of our works, in short, the local carbon footprint. So to balance our carbon footprint through the regeneration works of the lagoon ecosystem. We are almost ready to go.
Jane Da Mosto: We know what we want and need to do, only the last steps are missing.
Marcantonio Brandolini d'Adda: Everything is ready, we have the project, the funds, the communication strategy, the last pieces of the bureaucratic part are missing, but we will start soon. The idea is that in spring 2021 we will have something tangible to show, such as the "Laguna Viva" installation that we see here.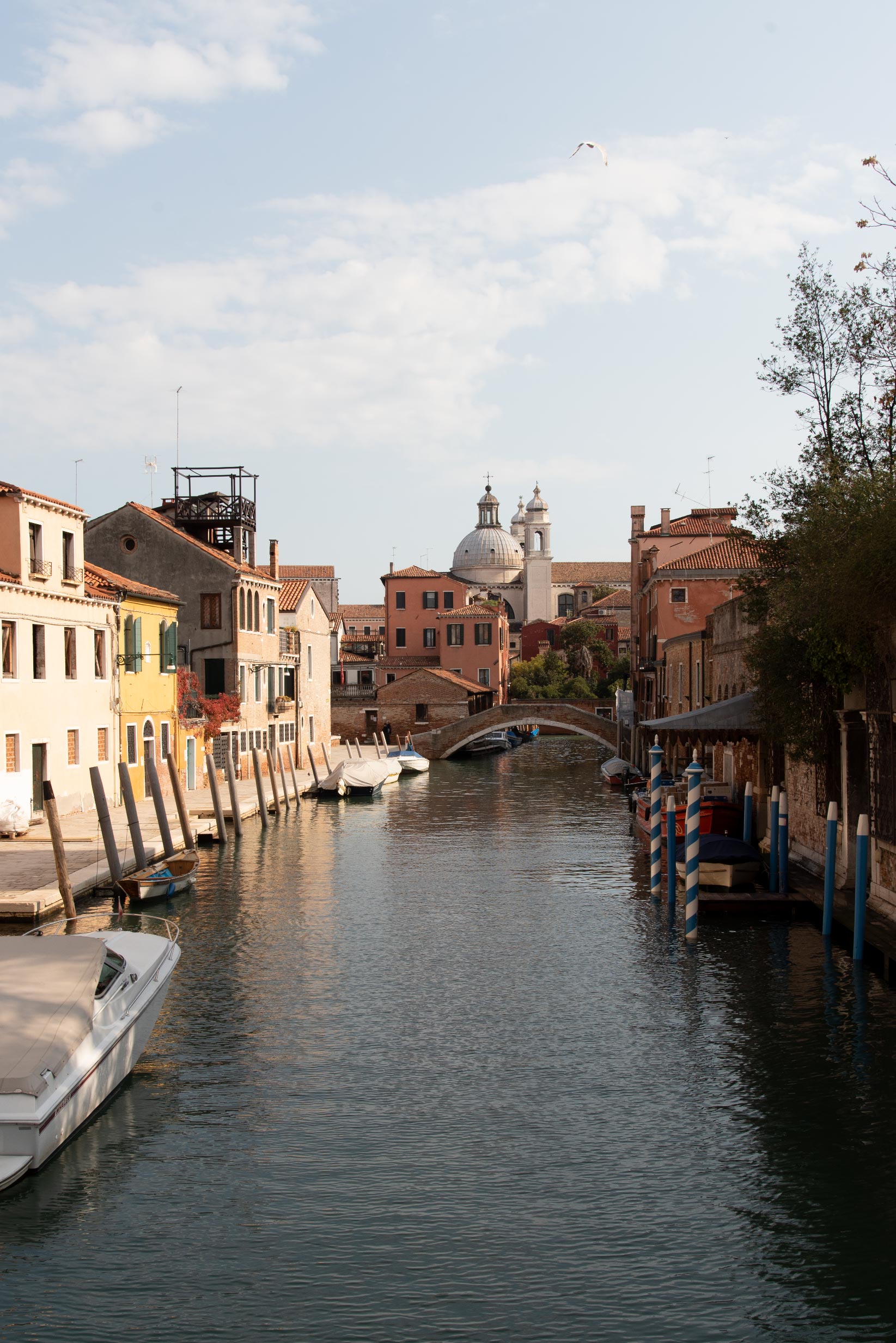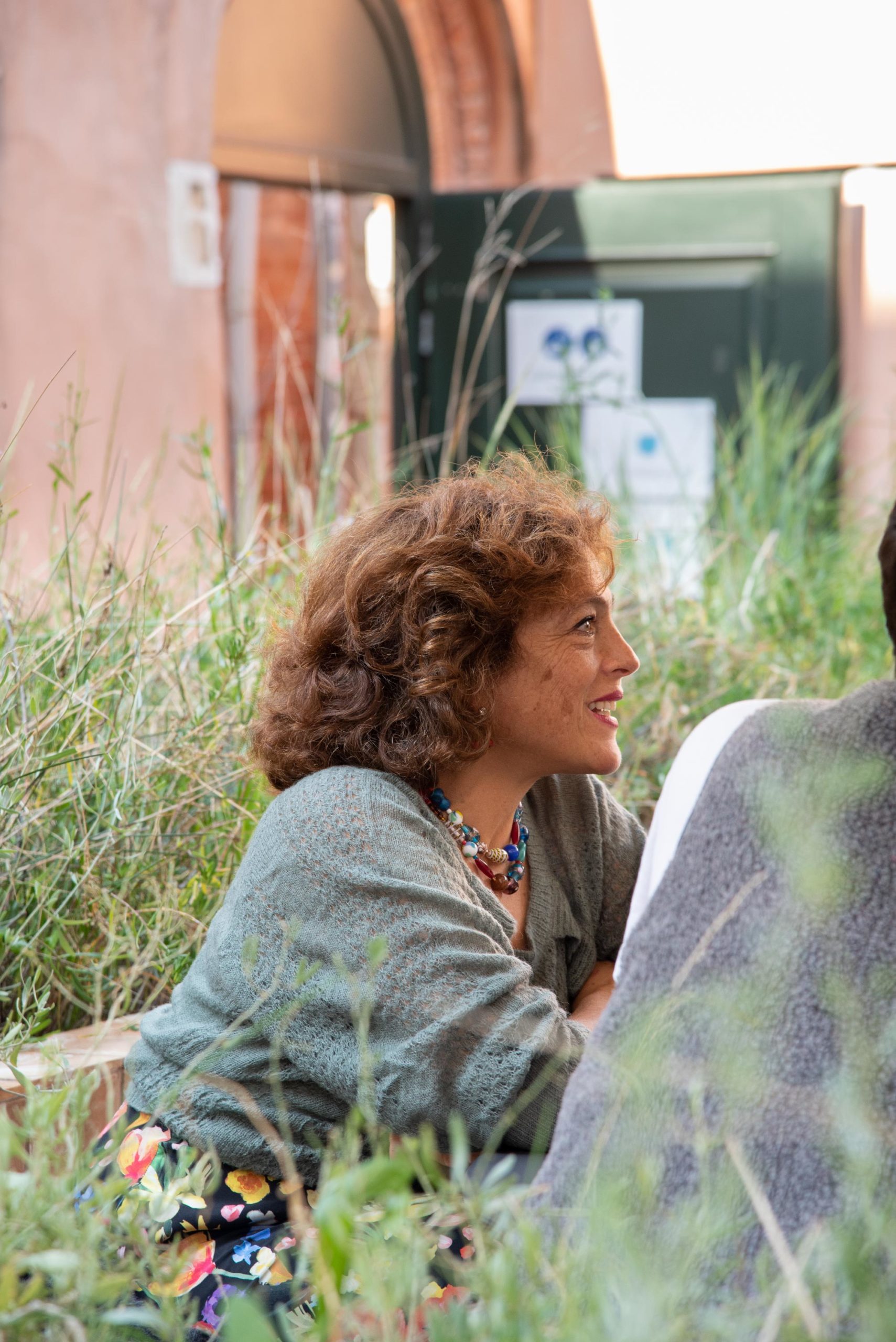 Above left: view from the back door of Sudest 1401.
Above right: Jane Da Mosto.
Jane da Mosto, born in South Africa and raised in London, is an environmental scientist and activist based in Venice. She studied at the University of Oxford and Imperial College London and worked as a consultant on sustainable development and carried out research on climate change and lagoon ecology. A Venetian resident since 1995, Jane established We are here Venice (WahV) in 2015, an NGO that operates as a trans-disciplinary think tank and activist platform with a mission to change the future of the city, highlighting the need to protect the lagoon and rebuild a more resilient resident population.
Publications include The Science of Saving Venice (Umberto Allemandi, 2004), The Venice Report (Cambridge University Press, 2010) and Acqua in Piazza (Linea d'acqua 2016). Contributions include "Making Time for Conversations of Resistance" in Feminist Futures of Spatial Practice (Spurbuch, M. Schalk et al, 2017), "Practicing Civic Ecology: Venice and the Lagoon" in Care and Repair (MIT Press, Angelika Fitz et al, 2019), "The Venice Paradox" in Aroop special edition on Failure (Raza Foundation, 2020). Alongside WahV specific projects, Jane is active in the community and is President of Pan di Zenzero, a pedagogical project for early childhood. In 2017 she was honored with the Osella d'Oro by the city of Venice.
Jane Da Mosto: The story of this installation is an example of the positive way we operate. In this case, our connection is through the collective of architects Assemble invited by the VAC Foundation, to propose something for the garden that had become a construction site during the restoration of the building. Assemble does projects linked to the local community and did not feel equipped for a project for Venice not being from here; so they asked us at We Are Here Venice to propose something that would be significant for the area.
It was July, it was incredibly hot, and the space was unaccommodating and we were about to give up! It seemed inevitable that whatever we'd do would be bad because the sun would burn everything, and with the renovations, only this tree in the garden had survived. But then I had the idea of ​​bringing some lagoon back to Venice… in the end, all my thoughts lead to the Venetian lagoon! And Assemble was glad because they had started producing these tiles with Granby Workshop in Liverpool, a place you absolutely need to see, take 2-3 days to see Liverpool! In Granby, there is an area of ​​the city that is completely abandoned, small houses of workers that are now in ruins and at risk of real estate speculation. And similar to how We Are Here Venice operates, a local entrepreneur who had made more money than he needed and wanted to do something for this area, contacted Assemble and said "there are few people left living here, and they care a lot about the local community that still survives" and Assemble had the idea of ​​starting this project, restoring the houses instead of having them demolished and then giving jobs making these tiles. They started by making them from normal clay and now they also collect broken pottery and reuse it with a new technique. Assemble was very happy to make these lagoon tanks – a chance to make more tiles! We have tripled the number of tiles! And the founder of the foundation is an engineer and keen to understand how the salt marsh would work. It is the plants that take care of themselves. There is a bit of engineering with water recycling and exchange with the canal that makes the water go up and down, but other than that,  the plants do everything.
Marcantonio Brandolini d'Adda: It is really beautiful.
Jane Da Mosto: Did you see how the jasmine is growing inside the bar? It is a whole system of agricultural lights that simulate day and night. Ferns suffer a little because they are delicate, but the jasmine is doing fine with farm lights.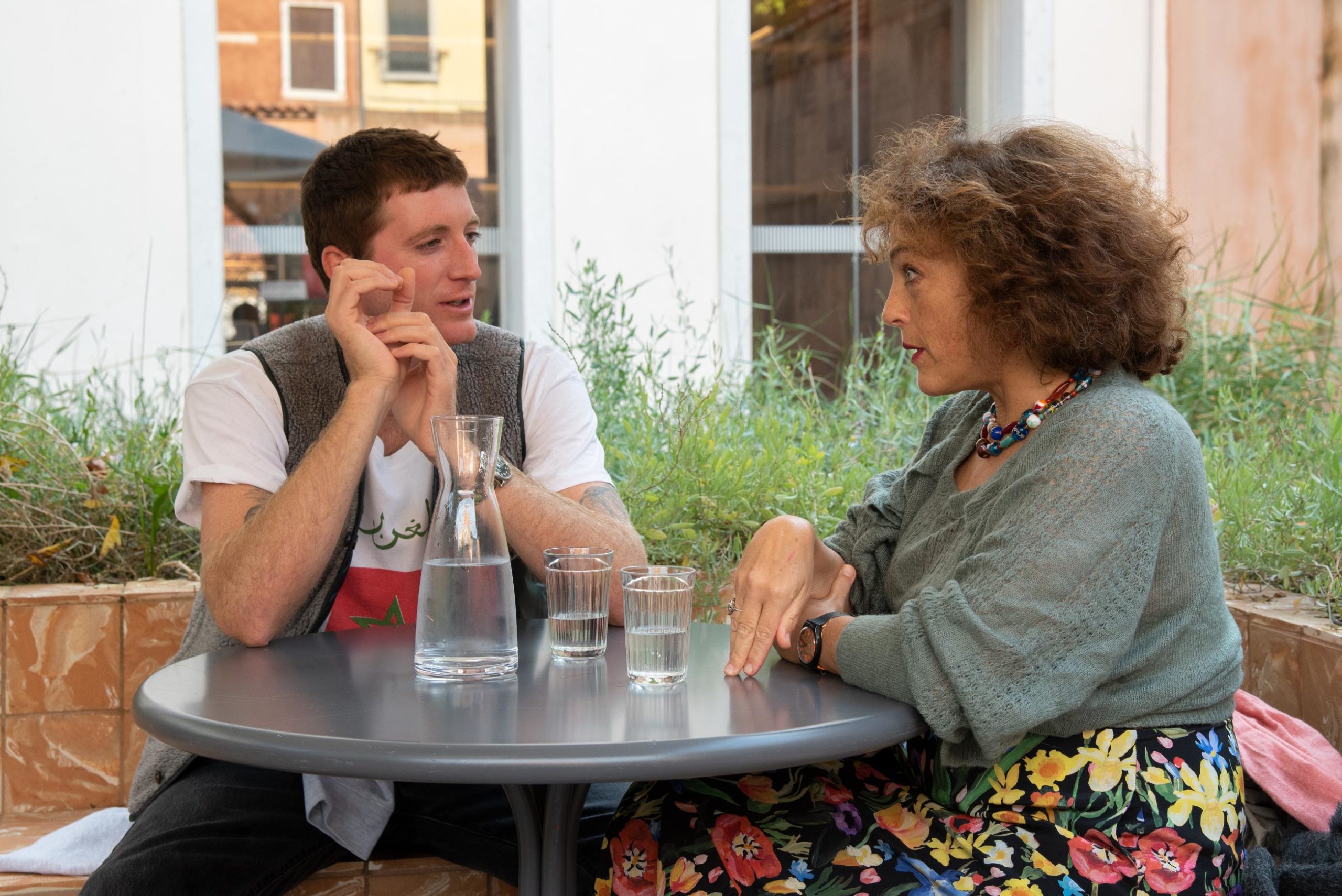 Above left: Marcantonio Brandolini d'Adda and Jane Da Mosto.
Glass in Venice and sustainability.
Marcantonio Brandolini d'Adda: The sustainability of glass is a vast subject. We are now starting to have a clearer vision of what our impact is today, working almost 90% according to the Murano traditions. This means that all the glass productions we do to date are usually classic Murano processes. We have made some small improvements, very small compared to what we will have to do in the future.
Jane Da Mosto: For example?
Marcantonio Brandolini d'Adda: In the meantime, being able to ship all our works without using plastics was our first step. However difficult to do when it comes to glass. Then we started working with the University of Padua to understand where and how to decrease our impact which today is measured with co2 emissions, so having a clear map of where our impacts are, we can understand where to intervene. For example, let's take raw material mining: raw material mining accounts for 5% of our footprint, how do we decrease the impact of raw material extraction? With the University of Padua, we will understand how to reduce it through research on waste management; local waste management helps you understand if it is good to recycle, use recycled glass or if it is not good. These are researches that make us understand the best path to take because sustainability paths are not always obvious or sure winning strategies for the future. There is a lot of cliché or hypocrisy connected to recycling. We need to go into detail. It is not a marketing choice to choose a regenerative and beneficial product. We are also doing research on our waste management with Durk Valkem, a Dutch engineer who is studying for us an engineering way to have a much more efficient furnace than the classic Murano ones we are using today: furnaces that will be able to reuse heat output to generate electricity. The study of the part linked to the community will then help us to understand how our product can bring benefits to the global glass community, and then expand to other types of craft, through collaborative community projects together with Pilchuck Glass School which is an institution American of contemporary international glass. The goal is to have in 5-10 years a company that has an evolutionary, not revolutionary, physical production site in Murano. A production system that evolves with an efficient furnace, a circular system.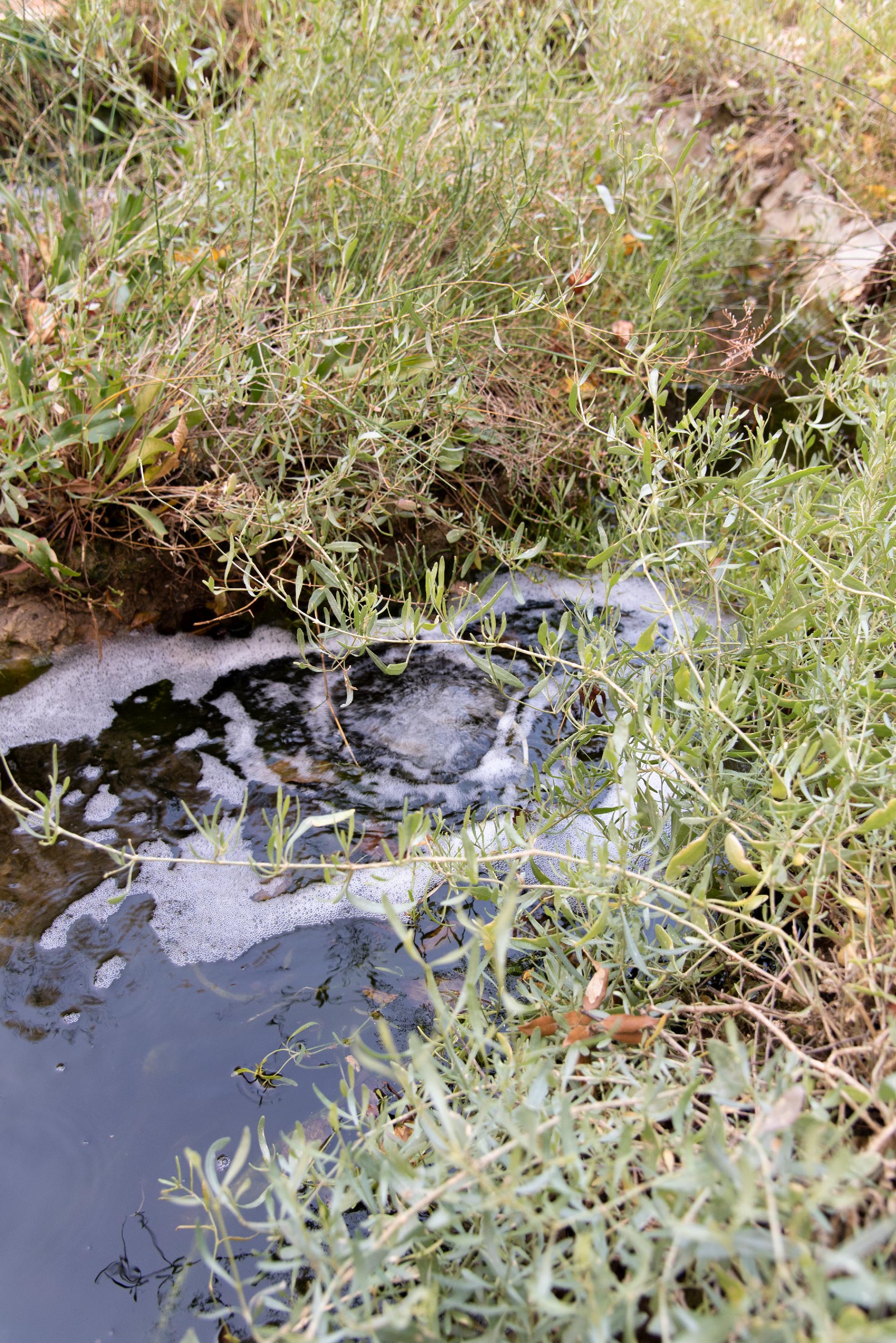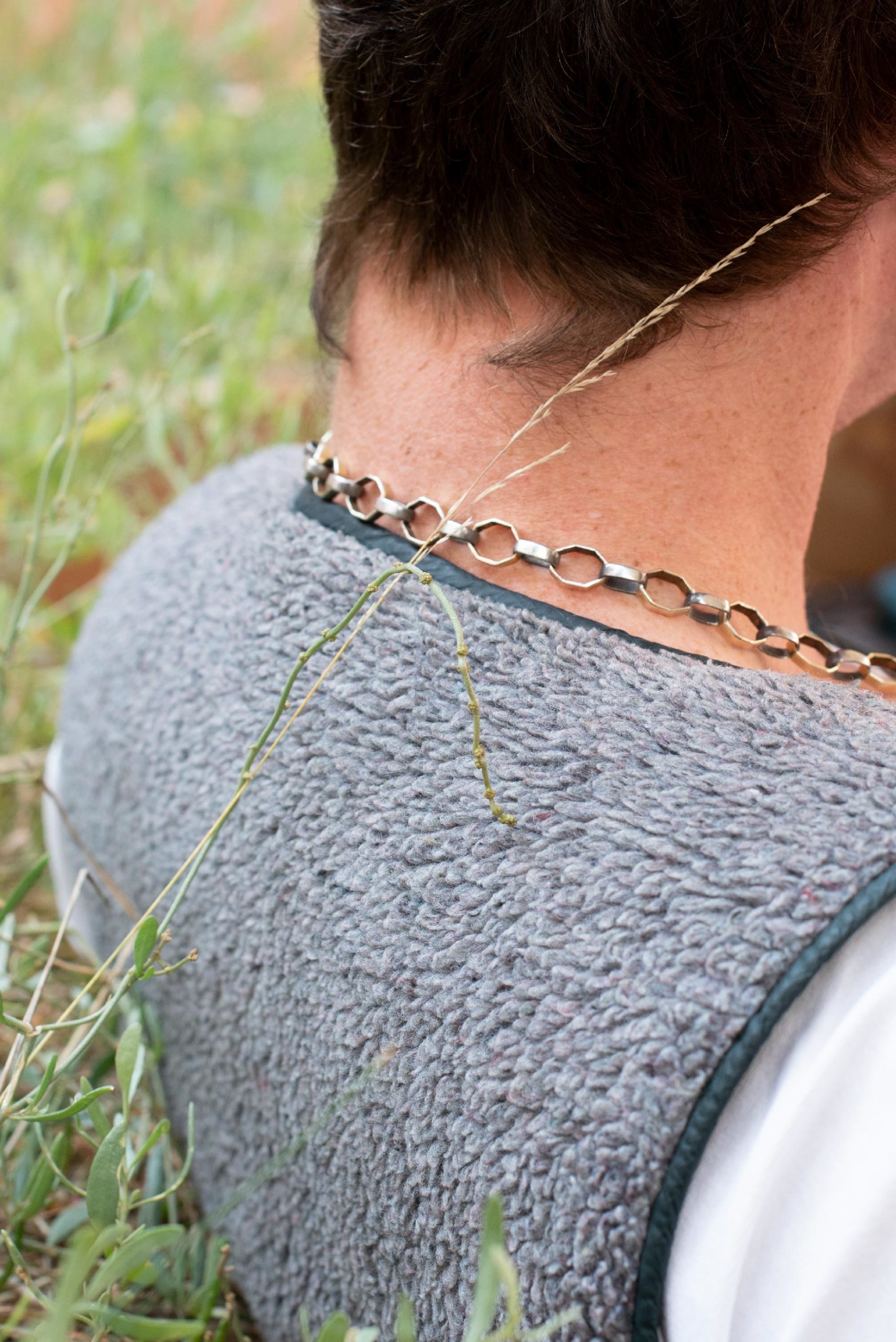 Above left: detail of "Laguna Viva".
Above right: detail of Marcantonio Brandolini d'Adda.
The "Laguna Viva" project was developed by We Are Here Venice with Assemble. The entire area is covered with tiles produced by Granby Workshop, a social enterprise in Liverpool (UK) founded by Assemble in 2014. The tubs were conceived by We Are Here Venice to deepen the ongoing reflection on the intimate and mutually dependent relationship between Venice and its context, as a follow-up to the experiment carried out by Jane Da Mosto and muf architecture / art, presented at the Great Britain Pavilion at the 12th Architecture Biennale of 2010. They are a microcosm of the characteristic low areas that emerge slightly from the water and they represent the vital habitat of the lagoon, called "barena".
Jane Da Mosto: When you ship your products you should include a message about your environmental mission! A small card informing about the impacts that you are working to solve! It is important to inform and educate those who buy. You and I are obsessed with these issues, but many other people are not, and maybe this is another type of "messaging channel" to generate awareness!
Marcantonio Brandolini d'Adda: That is certainly a role that the company must have. We are already doing it in part. However, in the future, LagunaB will have this physical location in Murano. And we hope that Murano can be proud again and return to being the world capital of glass. Because it used to be, but it isn't anymore. It has to untie itself from things like aesthetics and technology and think about other things, like innovation.
Jane Da Mosto: Do they listen to you in Murano? Is it easy?
Marcantonio Brandolini d'Adda: There is a lot of openness, everyone is listening to us. We cooperate with multiple furnaces.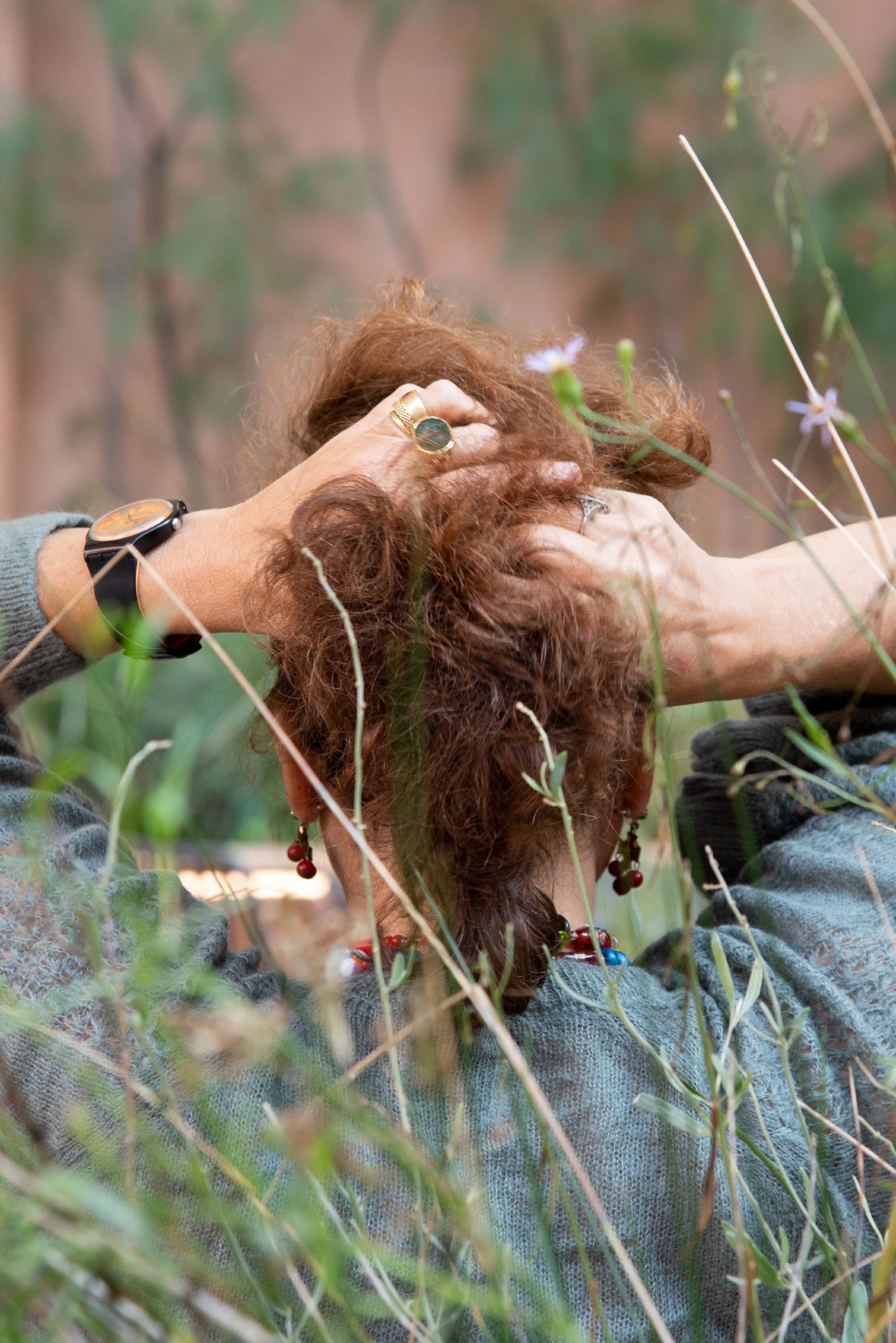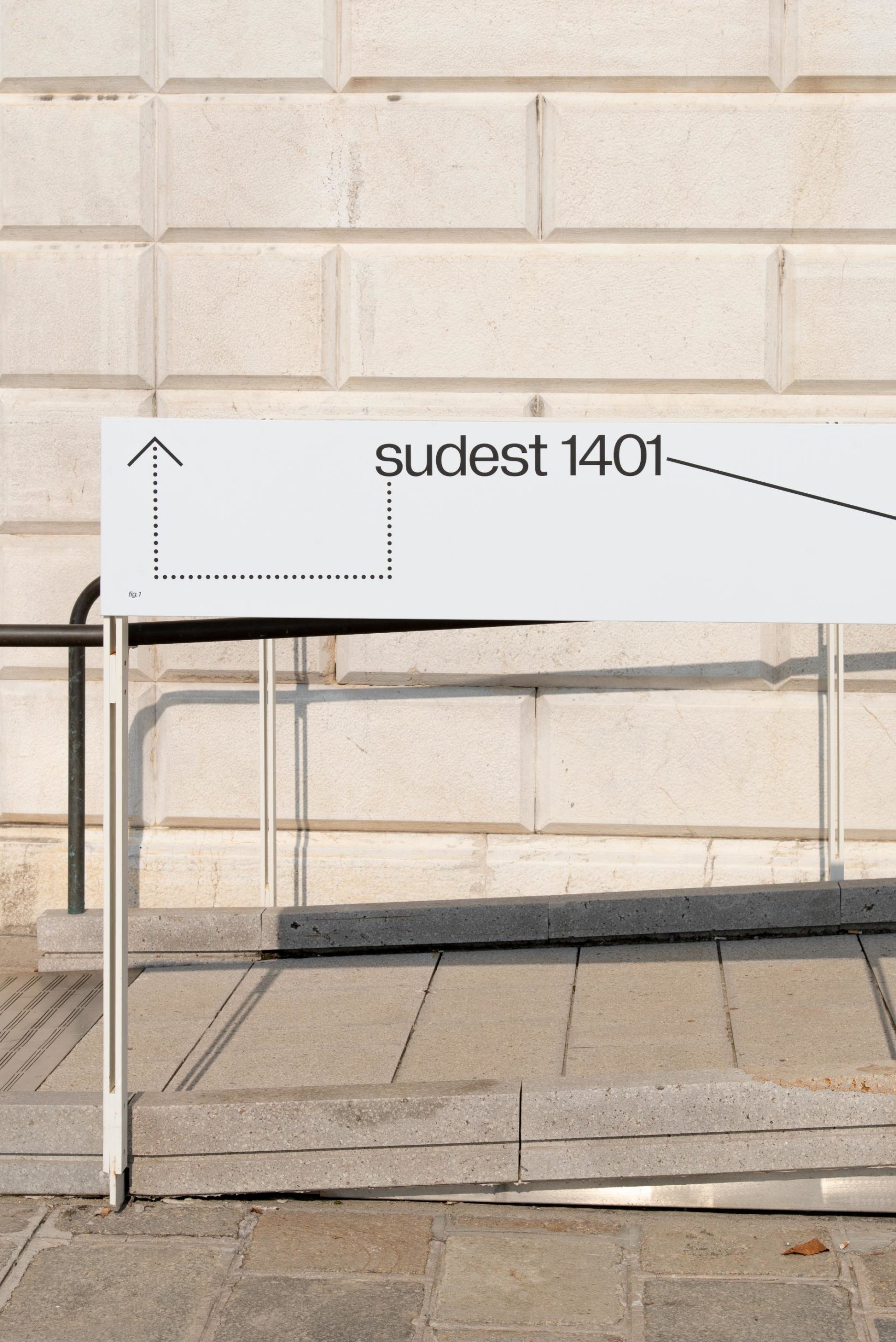 Above left: detail of Jane Da Mosto.
Above right: detail of Sudest 1401
What Venice needs today.
Jane Da Mosto: It's very simple: more jobs, more job opportunities, to increase the population of residents. Those who want to live here can't find a house, they are all used for temporary, tourist accommodation. With more residents, there would be more services and products, and it would also be possible to feed more productive businesses. There are no cities that I know of with such a large amount of unused space. It would take another full afternoon to discuss the potential of these spaces! Meanwhile, for me, Venice means making use of spaces and maybe not only for hotels but for homes. For those who want to live here more than just a few days. It has a quality of life that more people and families should be able to enjoy.
Marcantonio Brandolini d'Adda: You're right. A strong communication agency would be needed to communicate the great potential of Venice to the world. A strong external entity that communicates the potential of Venice, to invest in Venice.
Jane Da Mosto: New York in the '80s was very dangerous, we went on our honeymoon in '95 and my brother said "don't take the yellow taxis, because it's not safe", we took them anyway, they were in bad shape and the drivers didn't always understand English. Then they began to fix the waste collection, a problem linked to corruption. It is useless to ignore the corruption visible to the naked eye in Venice, I do not want more enemies than I already have, but you cannot think that there is no corruption here.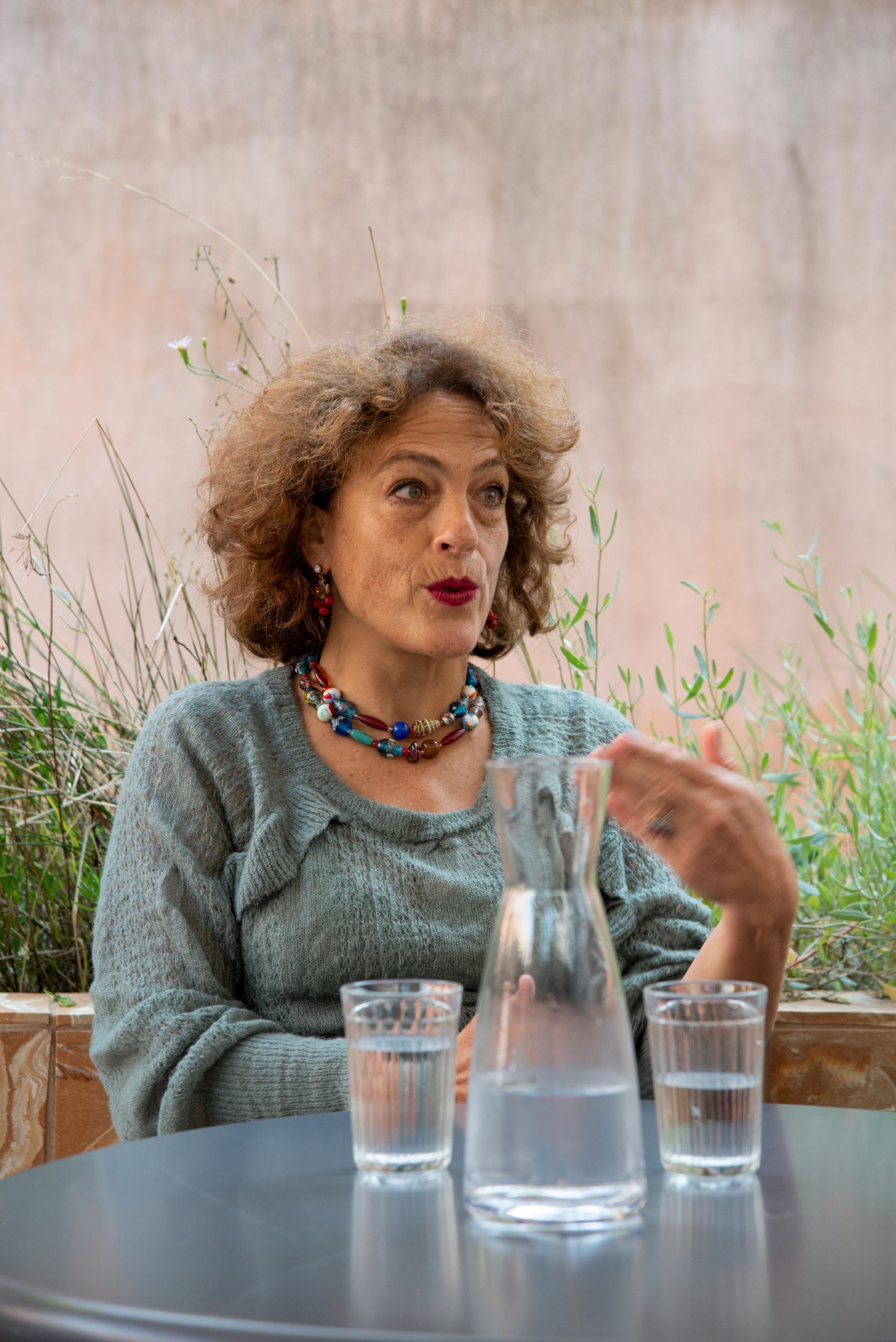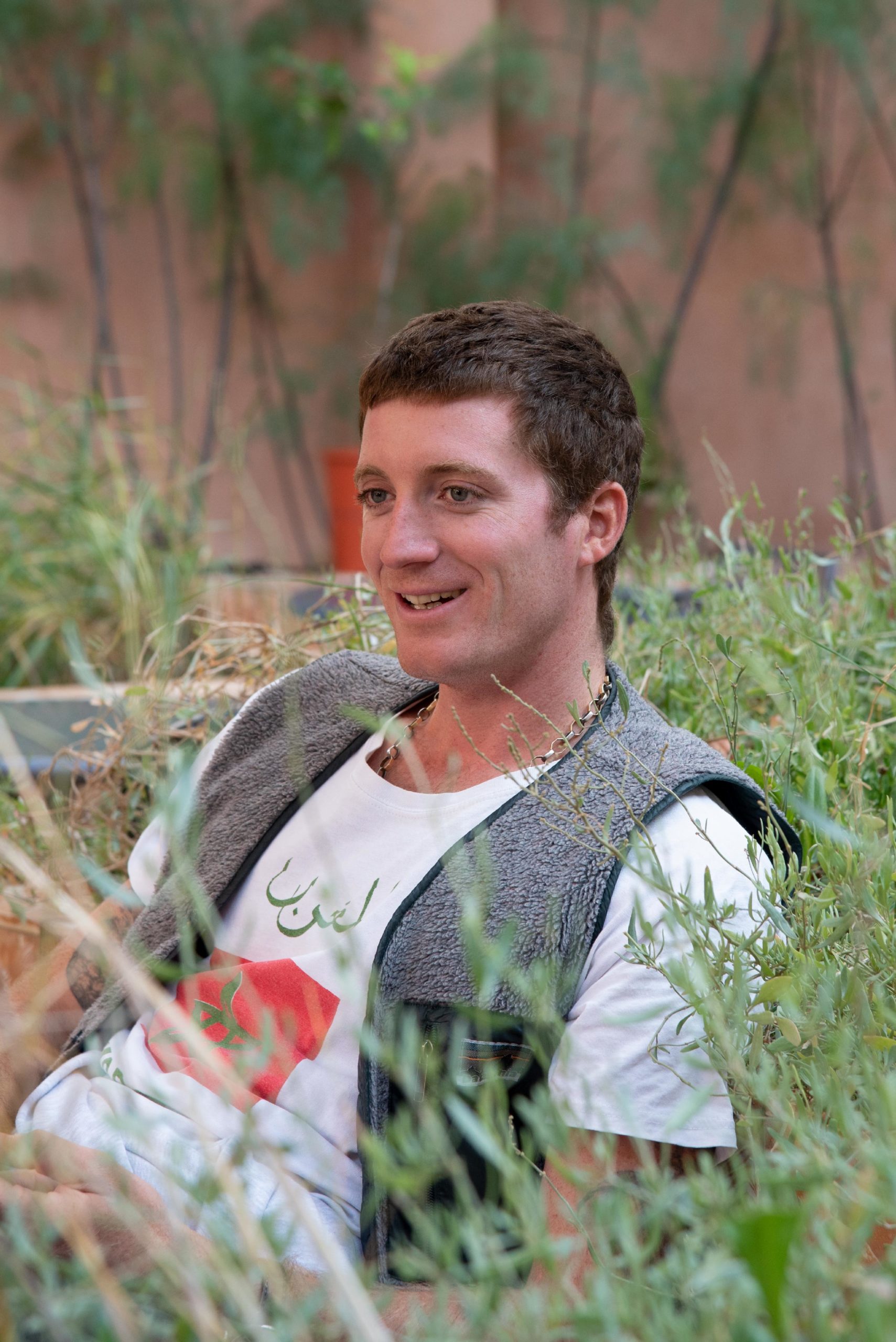 Above left: Jane Da Mosto.
Above right: Marcantonio Brandolini d'Adda.
Marcantonio Brandolini d'Adda: There are a thousand things to do. Everyone must do well what they know how to do well. If you make glass you have to do it better, if you deal with the environment you have to do it better.
Jane Da Mosto: We always say "Venice for the Venetians, Venice for the World": Venice needs more residents and then it will be able to heal itself. Because there is nothing like a person who lives here to notice what's wrong and try to fix it. People who come here on vacation don't notice, and can't do anything.
I went with my family to Berlin, with Airbnb for 4 days. Leaving the house and closing the door of this completely anonymous apartment, of a person who lives abroad and entrusts the key to another person who doesn't even live there and couldn't even recommend us a place in the neighborhood to go for a coffee, I realized that the plant at the entrance was losing all its leaves because in those four days it had never occurred to me to water it. I think that's a metaphor for the difference in approach to daily life of people who live in a place and the mindset of mass tourism.