Venice, design, and slowness in the golden hour of the Fondamenta. The Micheluzzi sisters and Agnese Lunardelli in conversation.
The aperitif time in the Fondamenta della Misericordia is also known as the "ora d'oro", which Venetians jokingly call "Golden Hour" to convey to foreign tourists how precious this moment is.
In fact, the light is particularly golden and relaxing, and when we pass by before dinner, stopping to have an aperitif on the "riva" is a moral obligation. Once seated, the color of the wine will seem richer, our faces healthier in the photos taken in this perfect light, and the conversation can only take an interesting turn.
Among the many bars of the Fondamenta, our reference point is definitely Vino Vero which serves highly sought-after natural wines and gourmet "cicchetti" (Venetian small bites).
All these seemed good enough reasons to set our first Venice for conversation here, for which we invited the sisters Elena e Margherita Micheluzzi (Micheluzzi Glass) to exchange views on Venice and design with Agnese Lunardelli (Lunardelli Venezia).
How did we get to where we are today.
Margherita: I remember exactly the moment, it was the end of 2018, around Christmas, even if we actually started our production in 2019. We grew up together with our father who has been working glass for many years…
Elena: …with the family-run shop downstairs, and my mom who has always worked with my dad, and we grew up in the shop.
Margherita: in addition to that, at home, we have a lot of glass from dad, or even from his friends from Murano, and therefore we grew up with glass. It seems almost natural to us: at home, we use it in different ways…
Elena: …we have all these glass objects that we end up using in the strangest ways, putting different things inside…
Margherita: and this is our past. Then we clearly took our own paths.
Elena: …we both wanted to leave so we had experiences abroad taking two different paths, Margherita in fashion and I in contemporary art, me working in galleries and her in the online fashion sector. Two paths that are both creative but very different in a certain sense.
Margherita: We have always found our father's work fascinating, but we always said: "it's him who does it, it's his name" (Micheluzzi), and we didn't feel like continuing his work unless we had our own idea, to avoid repeating what he does.
Elena: and we didn't even think we could come up with our own idea. He used to say to us: maybe my daughters will continue… Margherita at the time worked for a magazine…
Margherita: …Cabana magazine, a very nice interior magazine flanked by a line of homeware… plates, glasses, tablecloths, and among other things we sold Murano glasses. And I said to myself, I want to make them too!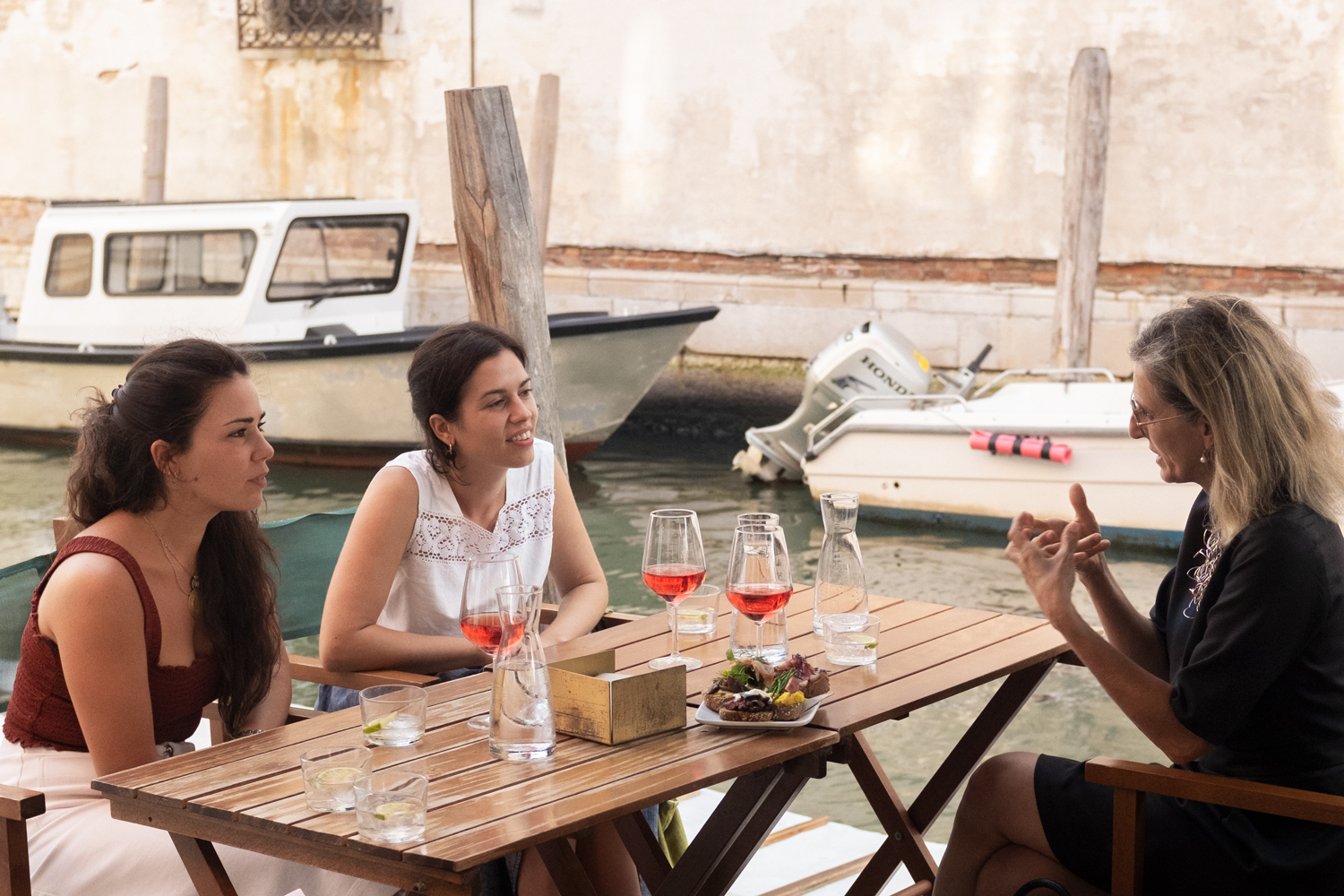 Above left: from left to right Margherita Micheluzzi, Elena Micheluzzi, Agnese Lunardelli. Courtesy of Camilla Glorioso
Elena and Margherita Micheluzzi are the daughters of Venetian glass artist Massimo Micheluzzi.
Elena studied philosophy at the Ca 'Foscari University in Venice and at the Sorbonne in Paris, graduating with a thesis in aesthetics. She has worked in contemporary art galleries such as Massimo de Carlo and Simon Lee for over six years. Margherita studied fashion at the IED (European Institute of Design) and carried out various jobs in the fashion field in Milan until she reached the online sector with experiences at Yoox, Farfetch, and Cabana Magazine. In 2018 they founded Micheluzzi Glass, a line of Murano glass vases and glasses for sale in their Venetian shop and online.
Elena: so we went to our father and we said to him, "Come on dad let's make glasses" …he said to us, "why don't you make the glasses yourselves? If you have an idea, come with me to the furnace, and let's make one glass " – he couldn't wait to take us to his furnace. And from that moment we tried to make some things: we went two, then three times to the furnace and things came out naturally. A small collection was born and our father gave us a shelf in his shop to display and sell it and it has kept on growing.
Margherita: At the time we were both living in London.
Elena: But the more the passion for this thing grew and the project worked, the more we decided to dedicate ourselves and leave both the jobs we had. Margherita came back here, I time shared between London and Venice.
Thanks to the fact that we are young compared to our father, and that we have worked in fashion and in the art market, we have grown from the point of view of glass processing and we have opened up the business to other channels: we created the websites, for our collection and our father's business, we opened an Instagram profile … So there is a collaboration for which he helps us a lot by teaching us what he knows and we give him new input on more modern and technological things. The key was to find our own idea to get started. Our things, unlike those of our father, are smaller objects, not sculptural, but beautiful and precious: things that enhance the glass medium with its play of reflections. They have smooth and carved surfaces that give the object a particular tactility despite the shapes being simple and inviting to use. So, compared to the more sculptural and artistic objects of our father, they are decorative, functional, domestic, and feminine objects. More collectible, cheaper, and closer to design.
Agnese: I had already followed in my dad's footsteps when I was 19 because I didn't go to University. When I got my degree in surveying I was practically channeled into the system, which in any case belonged to me because I grew up on "bread and wood chips" in the family business. As soon as I set foot in the company at the age of 19, I made innovative changes to my father's system, which was in fact very traditional craftsmanship: for example, they used to write down the processing tables of their products (doors, windows, and furniture) on plywood boards, not even on paper, let alone a computer! So I decided to use the first PC of the time, the M24 by Olivetti as soon as it came out, we bought it in Fossalta di Piave (laughs). It has always been my prerogative to have a solid love for wood passed on to me by my father, so much that I can't see myself doing anything else, but to transform that passion into a more modern and different path. My father died in 2009 and my business model until then had only been the production of tailor-made windows and furnishings on customer requests.
Meanwhile, the idea of producing a line wooden objects was taking shape in my head: things that I liked and that expressed the beauty of wood, a design line inspired by the wood of Venice, from where my father's activity had originated and for which I have always had a very strong love. Although I have never lived in Venice, my thoughts have always been projected to possess something of Venice. And I wanted to represent Venice in some different way. And seeing how much junk is sold in Venice, such as plastic gondolas and other sad objects, I wanted to give the city something with a different value, and represent the idea of ​​Venice through a valuable object to also give value to the activity that takes place in this city – which is not only a museum but is a place where beautiful things are made, crafts are alive, even with a more modern declination. To revive Venice through crafts.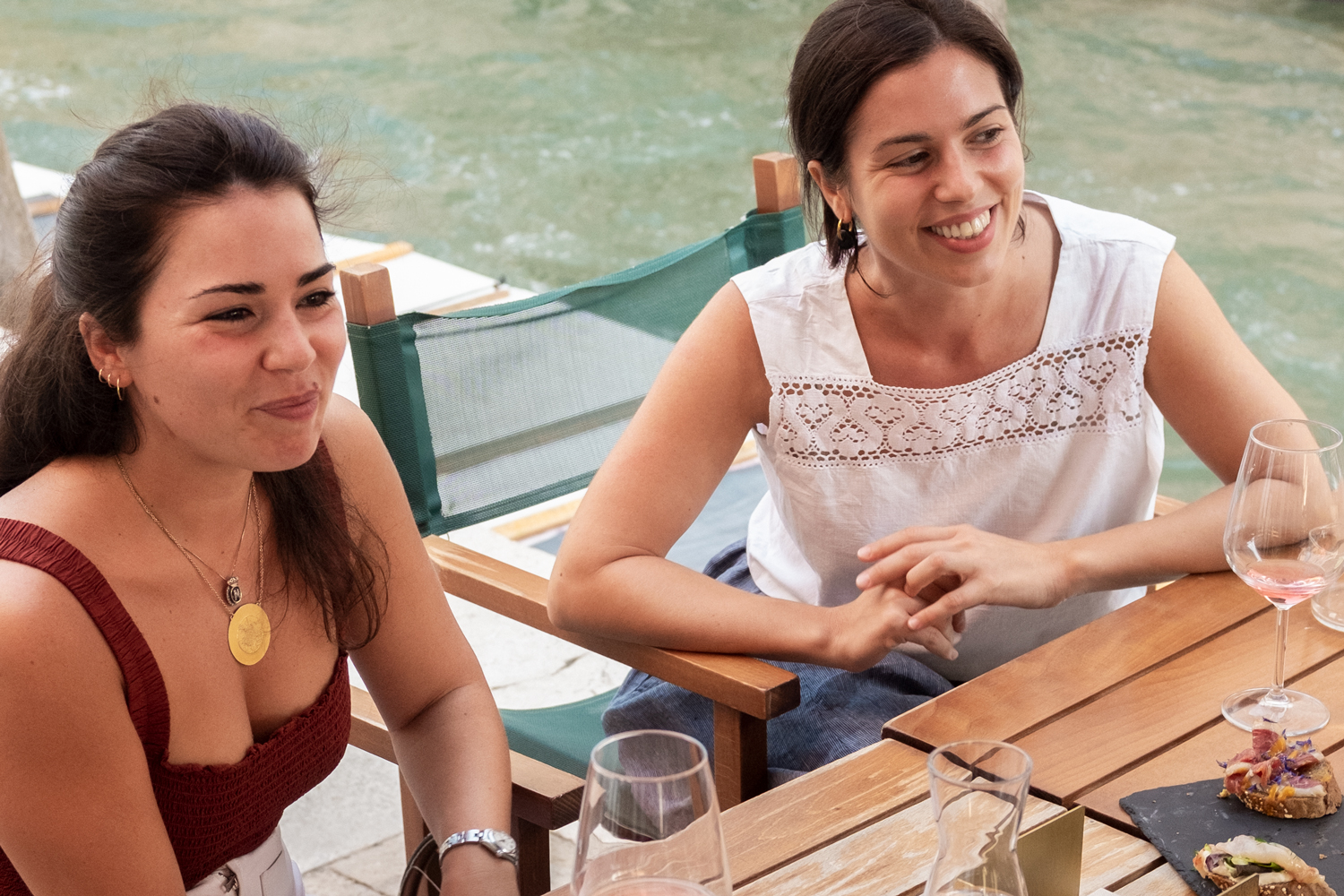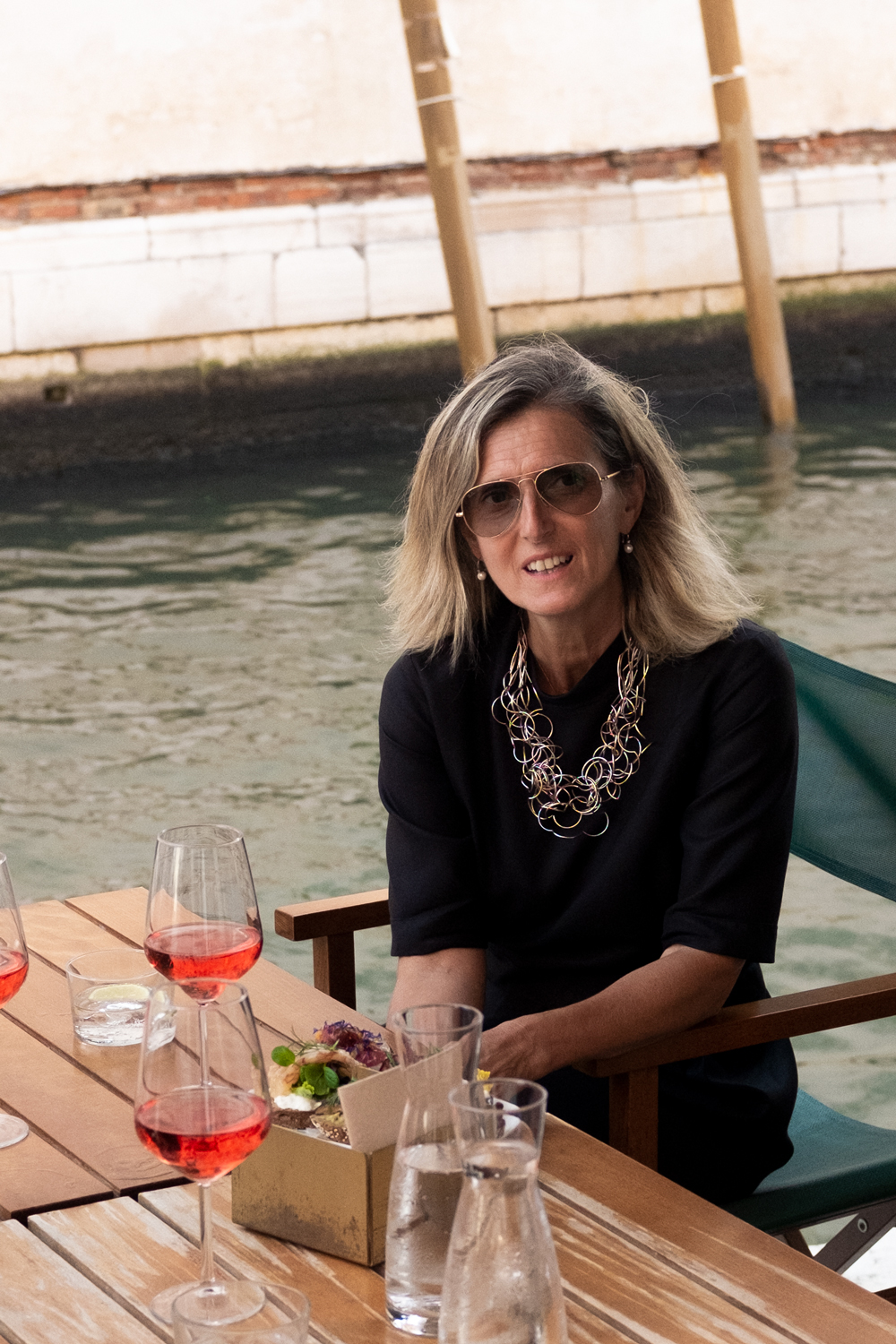 Above left: from left to right, Margherita and Elena Micheluzzi. Courtesy of Camilla Glorioso
Above right: Agnese Lunardelli. Courtesy of Camilla Glorioso
Agnese Lunardelli began her career in the family business of the same name in Fossalta di Piave which has been producing and installing high-quality wooden doors and windows since 1967. She attended the Berlitz School in Great Britain and the United States from 1985 to 1995 and is currently Managing Partner of Lunardelli est. 1967 where she deals with commercial activities with the Venetian, Italian and foreign markets, Russia, and the United States.
In September 2018, on the occasion of the Venice Glass Week, Agnese launched the "Lunardelli Venezia" brand for which she collaborates with designers and artisans to express the variety of talents and creativity offered by the Venetian territory, but also to explore innovative production techniques with materials of the local tradition: wood, Murano glass, fabrics. Its mission is to give back to the city the hospitality received by Lunardelli Est. 1967 over the years, opening its space and laboratory to collaborations with many other artisans and artists, giving them a unique platform.
Margherita: Unfortunately, many young people leave Venice because they don't believe they can have a career here, but that's not true. With a little goodwill and inventiveness, it is possible. In Milan and London, there is more of everything, and one instinctively thinks of going there, but there is also more competition.
Agnese: For example, in my space during the Venice Fashion Week or other events I have always given space for other people who want to exhibit their products to their customers in the setting of Venice. And they do sell! The common spaces do not exist exclusively on the mainland or in Milan, they are also here. My workshop in Venice is an open workshop where ideally different trades and craftsmen can meet. Making synergy, in rotation. Because I believe in the fact that these artisanal realities must repossess this city.
Elena and Margherita: Because they are the ones who made this city. In fact, this is still reflected in the names of different areas of Venice: Campo Della Lana (Field of the Wool), Calle del Fenestrer (Field of the Windowmaker), etc. It is a trend that is returning, albeit in a new and revisited way.
Agnese: Venice is not only a place for the tertiary sector: all lawyers and architects! But also a place for artists and creatives, inspired by the city.
Margherita: And architects also struggle here because they can only do conservation and renovation and have no freedom to build.
Elena: Yes and in the creative field, it is an inspiring city.
Agnese: We got caught up in globalization and there is homogenization. But we must have the courage to invent different activities and experiences to promote and communicate our companies, this is my idea.
Elena: Venice is the most beautiful city in the world, we have the potential to attract everyone here, and instead of doing it in a horrid way with poor-quality offers that attract the masses, we should do it differently.
Agnese: Even communication must be innovative, have strong content… there was this professor at Ca 'Foscari, Professor Rullani who used to say about twenty years ago: "Let's get ready because globalization will bring a flattening of any differences and those who are not big will be overwhelmed and die. But if you manage to hook your product or service to the territory and your territory is as unique as Venice, you won't have to be afraid of anything ". With this notion that I have internalized, I have always promoted my products abroad and got more attention than larger realities had gotten. And the competition was crazy. And in my business trips in China, Japan, the United States, and Brazil I was more likely to be heard because I came from Venice. And at that moment I realized that narrating Venice was important.
Margherita: And we have to offer something different otherwise people will get tired of coming here.
Elena: We should offer quality things.
Agnese: And have Venice live 12 months a year!
Elena: Also because the kind of tourism we attract is changing the city both in terms of shops and housing. This is all getting very commercial.
Margherita: We are giving the tourists what they ask in the end…
Agnese: …because they are not used to asking for more, they need to be educated. This is why I decided to create our space in Venice: it is a considerable effort but it gives me satisfaction to create a different culture and a different offer.
Elena: In fact, if there is an offer of quality things, if you create something different, beautiful, people appreciate it…
Agnese: But we also need to communicate them in order to trigger a virtuous mechanism for different tourism.
Elena: This is why the idea (Venice for) of connecting all these activities and combine them in itineraries is beautiful. This way you get to know them and create a community of excellence.
A toast to women!!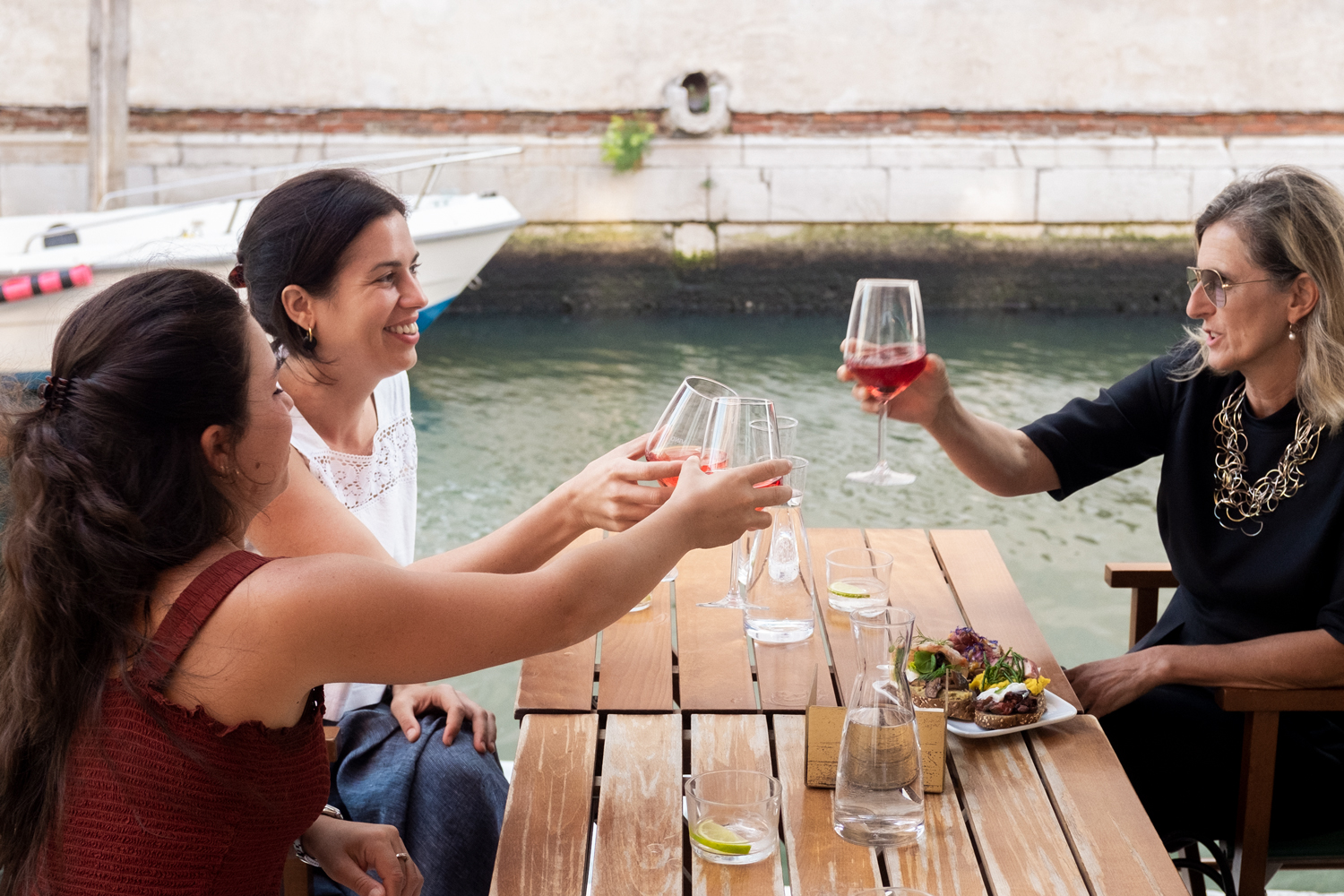 Above left: from left to right Margherita Micheluzzi, Elena Micheluzzi, Agnese Lunardelli. Courtesy of Camilla Glorioso
About the Venetian design object par excellence.
Margherita: The Venetian style is something we only have here, and for us the design object par excellence is glass.
Elena: Because it is what we know, it is close to us, and there is only one of Murano in the world. Glass can be revisited but can also be applied to other crafts and contexts, in jewelry, in design together with wood.
Agnese: In fact, our objects are made of wood and glass! I am convinced that the Venetian design object par excellence should be made of a mix of materials that express both the knowledge of the territory in shaping materials, and the shapes that are characteristic of this city, and it should also be designed for everyone, not just the elite. A different design for everyone because Venice is made up of different cultures and different styles but it has always been for everyone. And it should be alive and very open.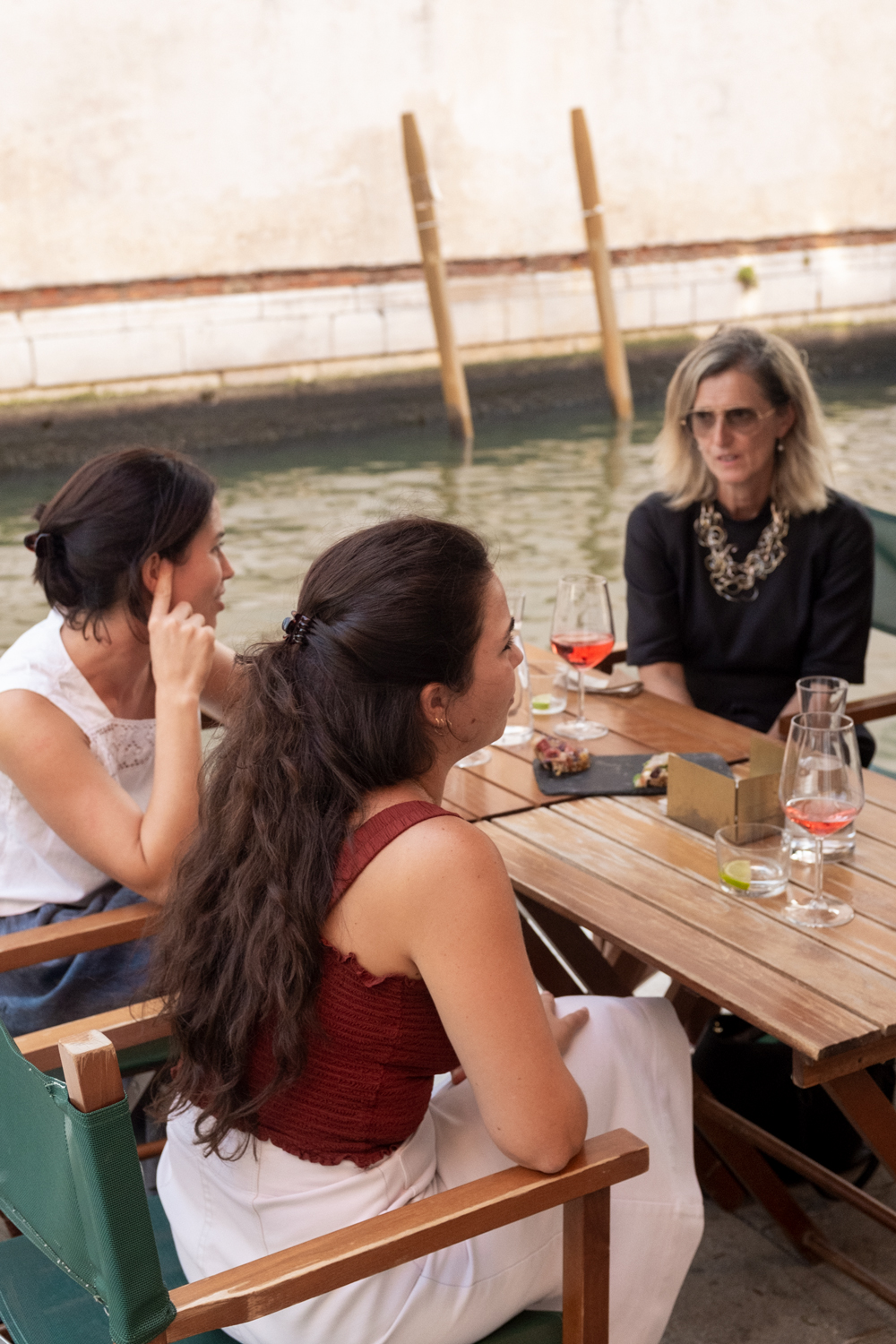 What Venice needs today.
Elena: First of all Venice needs to increase its population of Venetians or whoever wants to live there full time. More residents. It needs to be alive, not only in the high-season. This would mean new projects, new ideas, new jobs, and new things to do here.
Margherita: In Venice it is harder to find new things to do, but this means using even more creativity, inventiveness, and courage.
Elena: Yes, there are certainly fewer large companies in which you can find employment, and therefore a little personal initiative is needed.
Margherita: In big cities, for example, there are more startups that do new things, but often linked to technology and the production of services. In Venice maybe it could be in the field of creativity and craftsmanship!
Elena: And then more protection would be needed, not only by the Venetians but by everyone. Because as much as the city needs to be lived, it is also necessary to take into account the fragility of Venice and there is a need to preserve it and treat it well. There should be an international committee that deals with it: Venice is a global asset and there should be a global fundraiser when it is hit by tragedies such as high tide, etc.
Agnese: I agree with you. Venice can change for the better. I wish Venice believe in itself and its own value. The Venetians themselves are selling out pieces of the city, renting houses on Airbnb instead of living in them or renting them out; it is not only the fault of politics but also of citizens' choices. It is useless to block the concessions of the shops and force a Venetian not to give up their license … Everyone says that Venice is uncomfortable to live and work, but instead Venice must be the oasis in which you slow down. A place that forces you to change pace. I see Venice as a place where you can work, but above all find peace, a refuge from the frenzy of big cities. Where you have to walk, find a human dimension that allows you to create. It is not for the mass, which brings confusion. Here you either find peace and slow down or go elsewhere.
Elena: In the meantime, thanks to the COVID issue, many people are returning to Venice from abroad and who knows, maybe they will stop here for good…
Margherita: We must give the houses to the residents!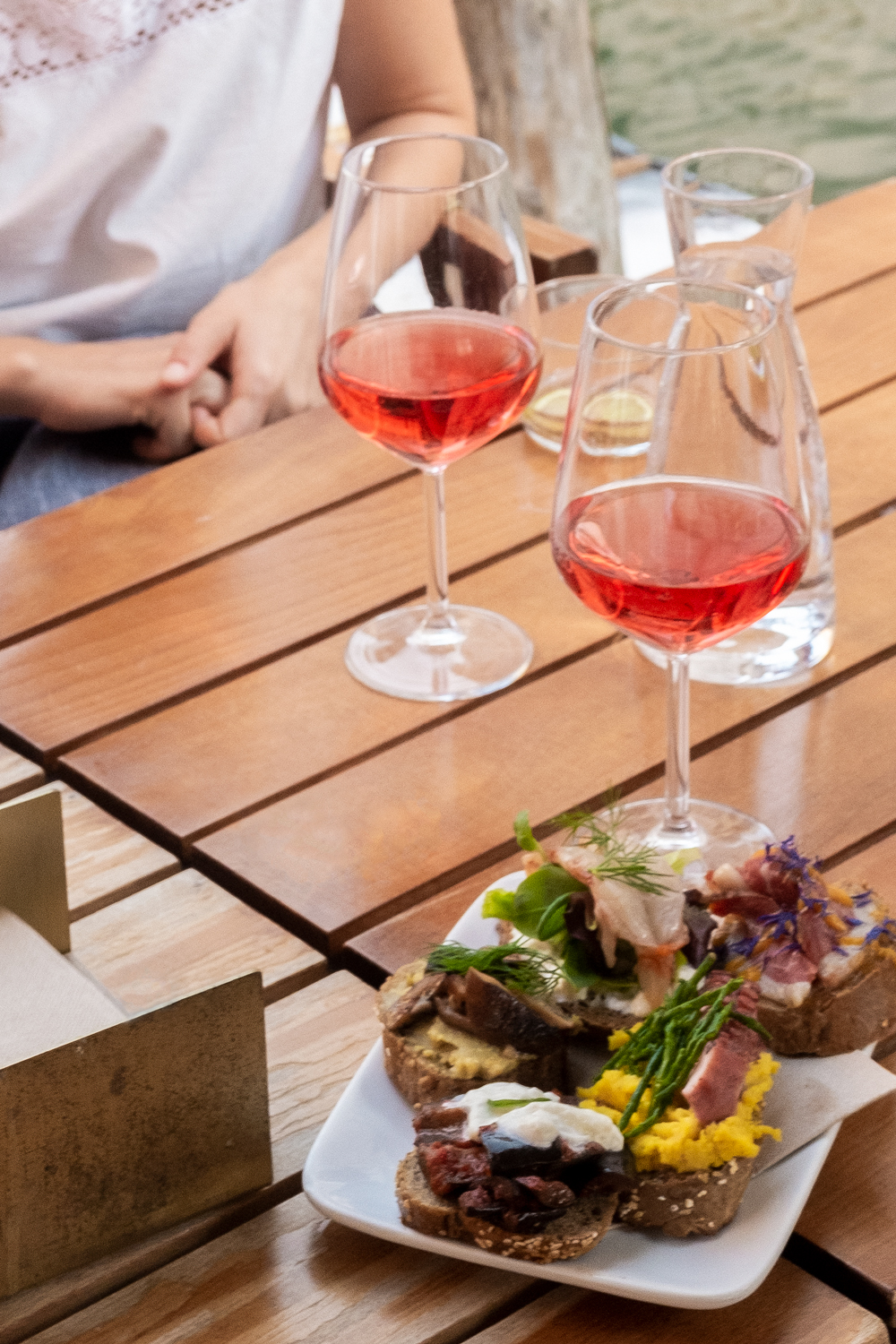 Above left: Vino Vero's "cicchetti" clockwise from the top: mayonnaise, mixed salad and shrimp with bergamot; duck breast, mango sauce and cornflower petals; chickpea cream with turmeric, grilled octopus and glasswort; fried aubergines and stracciatella; cream of blue with saffron, shitake mushrooms, and dill. Wine: Sampagnino Rosa by Vini Bulli.
Places of the heart in Venice.
Margherita: For reasons of closeness and habit, our place of reference for a drink with the family before dinner is Schiavi. We live and work in the same building and at 7 pm we all go downstairs to have a drink at Schiavi!
Elena: Another place we like, different from the traditional "bacaro", is Combo, ai Gesuiti. It is a place that we also highly recommend to friends who come to Venice. It is a new venue with a young spirit but in a beautiful Venetian historical context.
Agnese: When I get here, I'm always in a hurry but I really like Casa Cappellari near Rialto, a new restaurant opened a year and a half ago. It is a cozy place to eat delicious things, both traditional and innovative. And of course, I love Nico's ice cream at Zattere, when I want to give myself a gift.
Elena: Art wise, I would say, Le Stanze del Vetro, which of all the existing Venetian museums is the only one that deals with glass, a fundamental element for us. Being relatively new, it has a beautiful and modern space and they have amazing displays of both Venetian and international glass. Now they have an exhibition about American glass in dialogue with the Venetian one. Entrance is free and now some events related to the Glass Week are also taking place there. It's so weird if you think that we didn't have a museum nor an event dedicated to glass in Venice until recently. Apart from the current affiliation to the Glass Week, Le Stanze del Vetro is indeed outside the classic itineraries because in San Giorgio at the Cini Foundation, but all the same an important destination for those who want to discover the Venetian glass without going to Murano.
Agnese: I really like the Casa dei Tre Oci. First of all, from there, you get a view of Venice from the outside, and you are able to observe it in its fullness. It is a beautiful space where I feel welcomed, without the awe that certain ancient Venetian buildings sometimes inspire. It is intimate and has a unique view. What could be more beautiful!? Then there are some special wooden windows, which we have restored! The Lido of Venice, on the other hand, is my favorite place. Maybe it's because of the green, the sea, the sunsets…the beach makes me feel good inside.
Margherita: The side of Lido overlooking the lagoon is amazing!
Elena: Our favorite place our boat. Because by boat you can see the whole city from a different point of view and because our father always takes us by boat. We tried to learn how to drive it on our own when our father gave it to us when we were 18-20; we were fearless back then and ran around the lagoon with our "pattanella", but now I've lost my hand and I'm too scared! When our father takes us on his boat, it's very different. In the end, the actual streets of Venice are the canals, and the city is meant to be explored by boat. And when I'm on the boat something takes over me and even though I was born and raised here, I can't stop taking photos with my cellphone.
Margherita: And you realize that touring Venice by boat is a completely different thing compared to walking around, the circulation is totally different and you feel like you are living in another city !!
Elena: Whether it's in a gondola, a private boat, or a public boat, that's how it should be lived. And it allows you to experience also the rest of Venice, all the other islands of the lagoon.
Agnese: There is a whole other world of islands, which I discovered while rowing!
Margherita: That too is another way of discovering Venice that should be experienced, but unfortunately in my case, the oar doesn't want to stay in my "forcola"!
Agnese: If I learned, you can too! When I started, the oar didn't fit and the instructor told me: "Agnese is like making polenta"
Margherita: but my polenta always turns out with lumps!